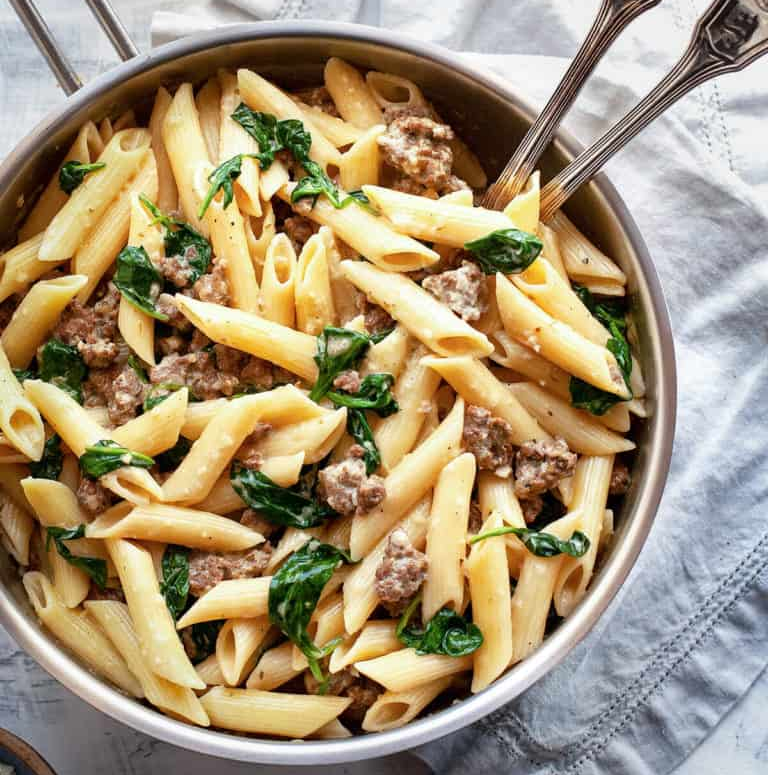 Healthy Chicken Sausage Pasta
| by Jonah Creed
Small changes can go a long way when it comes to eating healthier. But the key is to ensure you're not sacrificing flavour along the way. 
We've taken a tried and tested classic comfort food recipe of creamy sausage pasta and made it just a little bit lighter by swapping pork sausage for chicken and using half and half cream. These are simple substitutions that cut down on calories but still pack a ton of flavour. 
Serves 4
Ingredients
1 lb chicken sausage
1 lb penne pasta
1 tbsp olive oil
½ onion, minced
2 cloves of garlic, minced
½ tsp red pepper flakes
½ tsp salt
2 cups half & half cream
5 oz baby spinach
1/2 cup shredded parmesan
Directions
1. Cook the penne pasta in a large pot of salted boiling water following the directions on the package.
2. While the pasta is cooking, heat olive oil in a large skillet over medium-high heat.
3. Cook the sausage along with the garlic, onion, red pepper flakes, and salt until sausage is no longer pink. Drain any excess fat from the skillet. 
4. Turn the heat to low and add the cream. Bring to a simmer and add the spinach.
5. Cook, stirring for 4 minutes until the spinach is wilted.
6. Stir in the parmesan cheese until melted. Stir the pasta into the sauce.
Serve immediately.
Be in the know
Promotions, new products and sales. Directly to your inbox