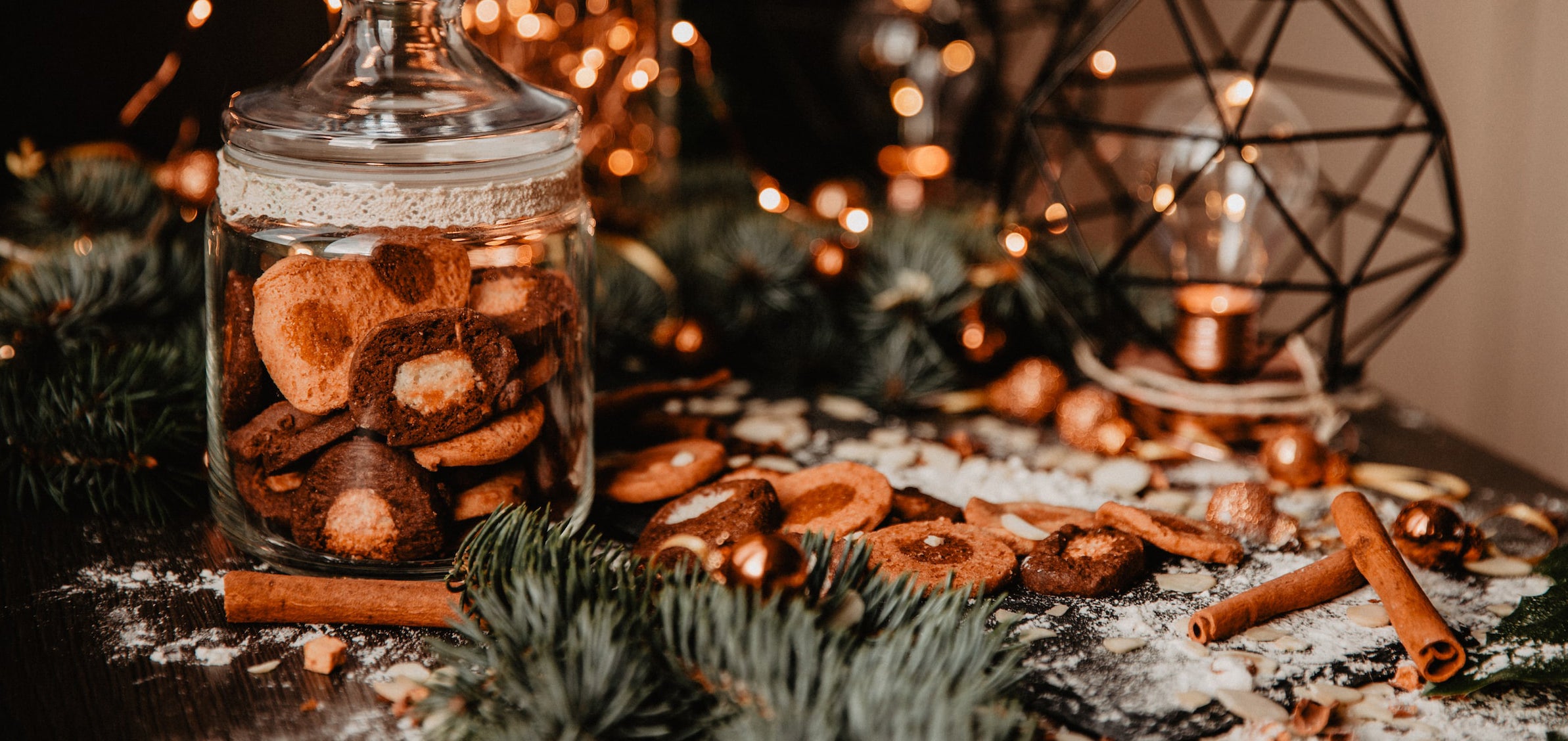 Three Delightful Holiday Cookie Recipes
| by Jonah Creed
One of the best parts of the holidays? All the delicious baking. There's nothing like the sumptuous smells of gingerbread, shortbread or sugar cookies wafting from the kitchen. It can make your mouth water just thinking about it.

November and early December is the perfect timing to begin baking your holiday cookie favourites. We've rounded up a few of ours: a traditional crinkle cookie, a buttery Italian biscuit and a ginger cookie that's fun to decorate.

Happy baking!


Double Chocolate Crinkle Cookies
Makes 20-22 cookies

Ingredients

1/2 cup unsalted butter, softened to room temperature
1/2 cup granulated sugar
1/2 cup packed light or dark brown sugar
1 large egg, at room temperature
1 teaspoon pure vanilla extract
1 cup all-purpose flour (levelled)
1/2 cup + 2 tablespoons unsweetened natural cocoa powder
1 teaspoon baking soda
1/8 teaspoon salt
1 cup mini or regular size semi-sweet chocolate chips
For Rolling
3 tablespoons granulated sugar
1 cup confectioners' sugar

Instructions

1. In a large bowl, using a hand-held or stand mixer fitted with a paddle attachment, beat the butter, granulated sugar and brown sugar together on medium high speed until fluffy and light in colour, about 2-3 minutes. Add the egg and vanilla extract, and then beat on high speed until combined. Scrape down the sides and bottom of the bowl as needed.

2. In a separate bowl, whisk the flour, cocoa powder, baking soda and salt together until combined. With the mixer running on low speed, slowly pour into the wet ingredients. Beat on low until combined and then add in the chocolate chips. The cookie dough will be thick and very sticky. Cover dough tightly and chill in the refrigerator for at least 3 hours and up to 3 days. Chilling is mandatory for this sticky cookie dough.

3. Remove cookie dough from the refrigerator and allow to sit at room temperature for 10-20 minutes. This makes the chilled cookie dough easier to scoop and roll.

4. Preheat oven to 350°F. Line large baking sheets with parchment paper or silicone baking mats. Set aside.

5. Scoop the dough (about 1.5 tablespoons) and roll into balls. Roll each ball in granulated sugar to lightly coat, then roll generously in the confectioners' sugar. Place balls 3 inches apart on the baking sheets.

6. Bake the cookies for 11-12 minutes or until the edges appear set and the centres still look soft. Tip: If the cookies aren't really spreading by minute 9, remove them from the oven and lightly bang the baking sheet on the counter two to three times to help initiate that spread. Return to the oven to continue baking.

7. Cool cookies for 5 minutes on the baking sheet, and then transfer to a cooling rack to cool completely. The cookies will slightly deflate as they cool.

Cookies stay fresh covered at room temperature for up to 1 week.
Italian Lemon Cookies
Makes 22 cookies

Ingredients

Lemon Cookies
1 1/4 cups all-purpose flour
1/4 cup + 2 tablespoons cornstarch
Zest and juice of one lemon (approximately 2 tablespoons lemon juice and 1/2-1 tablespoon zest)
1 pinch salt
3/4 cup + 2 tablespoons salted butter, softened (if you used unsalted butter, increase salt by 1/4 teaspoon)
1/2 cup powdered sugar
Lemon Glaze
3 tablespoons fresh lemon juice (strained)
1 1/2 cups powdered sugar
Zest of one lemon

Instructions

1. In a medium bowl whisk together the flour, cornstarch, zest and salt.

2. In a large bowl, add the butter and sugar and beat on medium speed until fluffy, 3-5 minutes. Add the lemon juice and half the flour and beat to combine. Then add the remaining flour and with a wooden spoon or spatula combine until a dough forms (it will be a little sticky; if it's too sticky add 1-2 tablespoons of flour).

3. Transfer the dough to a large piece of parchment paper and roll the dough into a log approximately 1 1/2 inches wide. Wrap the dough in the parchment paper and refrigerate for one hour.

4. Remove the dough from the fridge and cut into 1/2 inch slices. Place the slices on a large cookie sheet lined with parchment paper and refrigerate for 20 minutes.

5. Preheat oven to 320F.

5. Bake the cookies for 5 minutes, then raise the oven temperature to 350F and continue to bake for 9-10 minutes. The cookies should be light gold in colour. Remove from the oven and let the cookies sit on the cookie sheet for about 5 minutes, then move to a wire rack to cool completely.

6. The cookies can be either dusted with powdered sugar or spread with a lemon glaze. To make the glaze, in a small bowl whisk together the lemon juice, powdered sugar and zest until smooth.
White Chocolate Dipped Ginger Cookies
Makes 30 cookies

Ingredients

2 1/4 cups all-purpose flour
1 teaspoon baking soda
1/2 tsp salt
2 teaspoon ground ginger
1 teaspoon ground cinnamon
1/4 teaspoon ground cloves
1/4 teaspoon ground nutmeg
3/4 cup unsalted butter, softened
1/2 cup + 3 tablespoons granulated sugar, divided
1/2 cup packed light brown sugar
1 large egg
1/4 cup molasses
2 teaspoons vanilla extract
3 cups white chocolate chips
3 tablespoons shortening
Red and green candy melts (or tinted royal icing)*

Instructions

1. In a mixing bowl whisk together flour, baking soda, salt, ginger, cinnamon, cloves and nutmeg for 20 seconds. Set aside.

2. In the bowl of an electric stand mixer fitted with the paddle attachment, cream together butter, 1/2 cup granulated sugar and brown sugar until well blended.

3. Mix in egg, then blend in molasses and vanilla. With the mixer set on low speed, slowly add in dry ingredients and mix until combined. Cover bowl with plastic wrap and chill for 1 hour. During the last 10 minutes of chilling, preheat the oven to 350 degrees

4. Scoop dough out about 1 1/2 tablespoon at a time and shape into balls. Roll each ball in remaining 3 tablespoons of granulated sugar.

5. Transfer to parchment paper lined baking sheets, spacing cookies 2 inches apart (keep dough chilled that is not currently baking), flatten tops just slightly (to evenly level). Bake for 8-10 minutes.

6. Cool cookies on baking sheet for several minutes, then transfer to a wire rack to cool completely.

7. In a microwave safe bowl, melt 1 cup white chocolate chips on high, adding 1 tablespoon of shortening every ten seconds and stirring after each addition. The consistency should be smooth and fairly runny. (Note: it's easy to burn the mixture, so the best way is to work in batches, one cup of chocolate chips at a time.)

8. Dip half of each cookie in melted white chocolate mixture then run bottom of cookie slightly along edge of bowl to remove excess. Return the dipped cookies to parchment paper and allow to set at room temperature.

9. To make a holly decoration, melt around 9 candy melts according to package directions (Note: they set quickly and a little goes a long way). Pour into a piping bags fitted with a #4 tip and pipe a design on each cookie. Allow to set a room temperature.

10. Option: Use premade holly decorations or festive sprinkles.
Be in the know
Promotions, new products and sales. Directly to your inbox