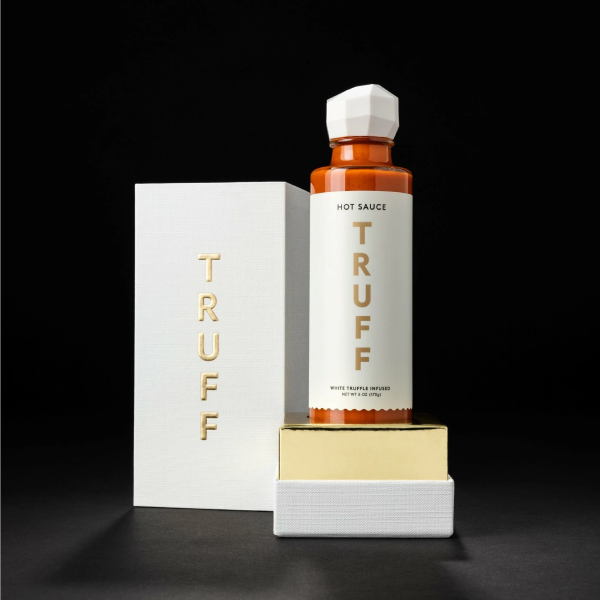 10 Best Gifts for Foodies in 2021
| by Jonah Creed
Picking out the perfect gift for the discerning foodie on your holiday list is a pretty tall order. Finding something they haven't tried before or that will meet their exacting standards can make the whole exercise pretty overwhelming.

So how do you pick out that perfect culinary gift that will really knock their socks off?
We've been keeping our eye on the hottest new products on the market this year. We've rounded up 10 of the best to help you take the string out of shopping for those food lovers on your list.
We guarantee that foodie on your list has never had hot sauce like this before. TRUFF's decadent white truffle hot sauce is a curated blend of ripe chili peppers, organic agave nectar, white truffle, and a hint of organic coriander. Each order also comes with a special edition white and gold VIP box! Tell them to try it on mac and cheese, roasted veggies and fried chicken for an elevated flavour experience!

This exclusive luxury chocolate series is the perfect gift for serious chocolate aficionados. Famed chocolatiers Ta'ok offer up a vintage edition of carefully blended and exceptionally well-balanced premium Ecuadorian chocolate. Indulge in woody, buttery caramel flavours with hints of tobacco, honey and dark fruits. Pair this tantalizing treat with sweet fortified wines like Port and Pedro Ximenez sherry.

Sure, it may just seem like standard Italian rice, but carnaroli is known as the "king of Italian rices," for good reason. It has an even higher starch content than Arborio, resulting in a lush, velvety risotto. This variety is the secret to truly sensational restaurant-quality risotto. A must-have for aspiring chefs everywhere.

For hard-core coffee lovers on your list, Creeds premium private label Cinque coffee is the only choice. Our diligent, tried-and-true house espresso roast is designed to produce a big-bodied shot packed with flavour and complexity that can hold its own when combined with milk. Its defining feature is a fine balance of dark fruit, Swiss chocolate and nutty tones with medium acidity, tailor-made to stand the test of time.

The meat-free movement is having a serious moment. Get that vegan on your list some of these super popular crabless crab cakes from gourmet plant-based alternatives brand Modern Meat. Made with fresh vegetables, herbs and lemon, these cakes look - and cook - like the real thing. 

We're big fans of food that's wrapped up in an edible package, so we're really digging this mouthwatering artisanal beef empanada from House of Empanadas in Toronto. Foodies will love the super flaky dough filled with a smoky Spanish paprika-infused chorizo and fresh, creamy mozzarella cheese and a blend of special spices. No utensils required!

These aren't your average potato chips. These are proper, gourmet British crisps. Pipers deliver big, bold flavours with their Jalapeno & Dill crips. These hand-cooked crisps are made with fresh jalapeno peppers and aromatic dill to create a unique and fusion of flavours. The perfect pairing for a cold, frosty pint.
These Jamaican beef patties are the business. Hand-made by Stush right here in Toronto, they're bursting with minced lean chuck steak cooked in all your favourite Jamaican spices and wrapped in a flaky pastry. 

They had us at salted caramel. And a salted caramel cashew is truly a thing of snacking beauty. These salty and sweet treats by Handfuel are hand-roasted and glazed with salted caramel to create the perfect crunchy and savoury snack. They'll devour this bag in no time flat. 
For those foodies who crave Asian comfort food, check out these pork ramen kits from the good folks at Crafty Ramen. This DIY kit includes cooked pork chashu, uncooked noodles, miso chicken broth, roasted corn, menma, and chili miso butter. 
Can't choose just one of these goodies for a gift? Why not get that food lover a custom gift box full of Creeds best-selling products? Choose from a selection of confectionery, baked treats, oils and vinegars, artisan cheeses, red, white and sparkling wine, home goods and more!
Need help putting your gift box together? Get in touch with Creeds Concierge, who will help you curate the perfect present.
Be in the know
Promotions, new products and sales. Directly to your inbox