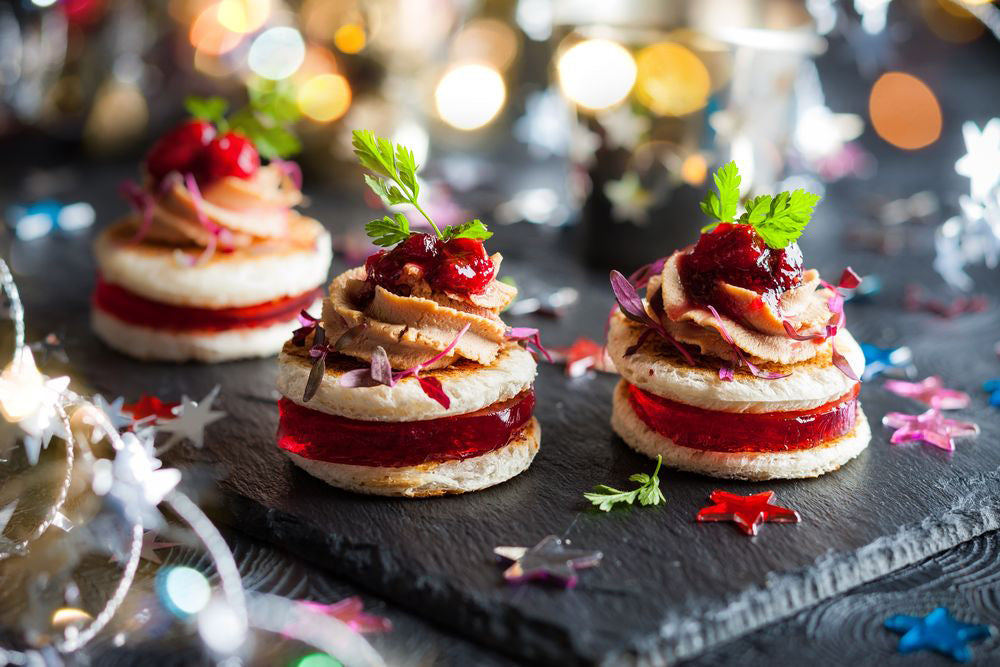 10 Festive Appetizers & Dips for Your Holiday Platters
| by Jonah Creed
There's nothing like a holiday party: so much indulgent food, so many festive drinks and — did we mention the food? Sumptuous charcuterie, decadent cheese boards, delectable spreads … you can taste them now.

The best holiday parties have a lush selection of tempting finger foods and elegant appetizers — and a variety of premium spirits and cocktails, sparkling wines and non-alcoholic beverages to compliment, of course.

We've gathered some of our favourite dips and tastiest appetizers that are guaranteed to put a festive smile on the faces of any party guests. Read on and prepare for your mouth to start watering.
Everyone loves cheesy, savoury mini tarts. These crispy beauties take sweet roasted red peppers and tangy goat cheese, seasoned with herbs and garlic, and nestle them in buttery phyllo pastry shells. We also have spinach and cheese tarts. Bake for 10-15 minutes and serve with a silky Chardonnay or crisp Sauvignon Blanc. Delightful!
Crab cakes are the perfect bite-sized party food. Crafted from sweet and tender crab meat, these cakes are seasoned with peppers, onion, salt and pepper, and dill and coated in crispy panko. Serve them with lemon aioli, spicy tartar or Louisiana-style remoulade. Get extra — they'll disappear fast!

Blinis are a wonderful accompaniment for caviar and crème fraiche. Nutty and toasty, these bite-sized rounds — like fluffy mini pancakes — also make a tasty base for smoked salmon and cream cheese, fresh fruit, brie and cranberry sauce and vegan caviar (lentils, balsamic vinegar, lemon juice, olive oil, dried ground seaweed and pepper).

This is a satisfying and elegant way to enjoy macaroni and cheese. These "bombs" are bite-sized balls of mac & cheese rolled in panko and fried to a golden perfection. Deliciously crispy and cheesy, mac & cheese bombs are delish with spicy sriracha mayonnaise or ranch dressing.

Our snow crab dumplings are a one-of-a-kind spin on the classic version. The premium meat, which delivers a sweet and slightly briny flavour, is all wrapped up in a soft pocket. Boil, pan-fry or steam and serve with soy sauce and a spicy carrot salad.

Tangy, creamy and spicy … we love this velvety labneh from Poet's Kitchen. Crafted with labneh (Middle Eastern cheese), olive oil, chilis and spices, this dip is both sumptuous and versatile. Serve it with za'atar, olive oil and warm pita or veggies.
Yes, you can actually taste Provence — right here in this beautiful black olive tapenade. Savour rich and naturally-ripened Beldi olives blended with capers, garlic and sundried tomatoes in an umami-rich paste. It's delicious on crostini alongside a chilled French rosé.

This small-batch dip is poetry for the palate: fresh and sweet, thick and creamy. The Poet Kitchen roasts the eggplant and garlic over an open fire, which gives the dip its rich smokiness. All-natural and vegan, this lovely spread comes in a ceramic pot!


The best party platters always have an incredible antipasto. With crunchy zucchini, sweet peppers and meaty pine nuts, Viani's traditional Mixed Sicilian Vegetables might become your new favourite condiment. Serve with bread and a special red wine for an indulgent munch. 
This unique dip is a creamy delight. Poet's Kitchen has created a luxuriously smooth and velvety hummus with turmeric, caramelized onion and fresh lemon. It's a delicious balance of umami and acidity. Enjoy it with fresh pita bread.

Need help putting your gift box together? Get in touch with Creeds Concierge, who will help you curate the perfect vino-inspired present.
Be in the know
Promotions, new products and sales. Directly to your inbox