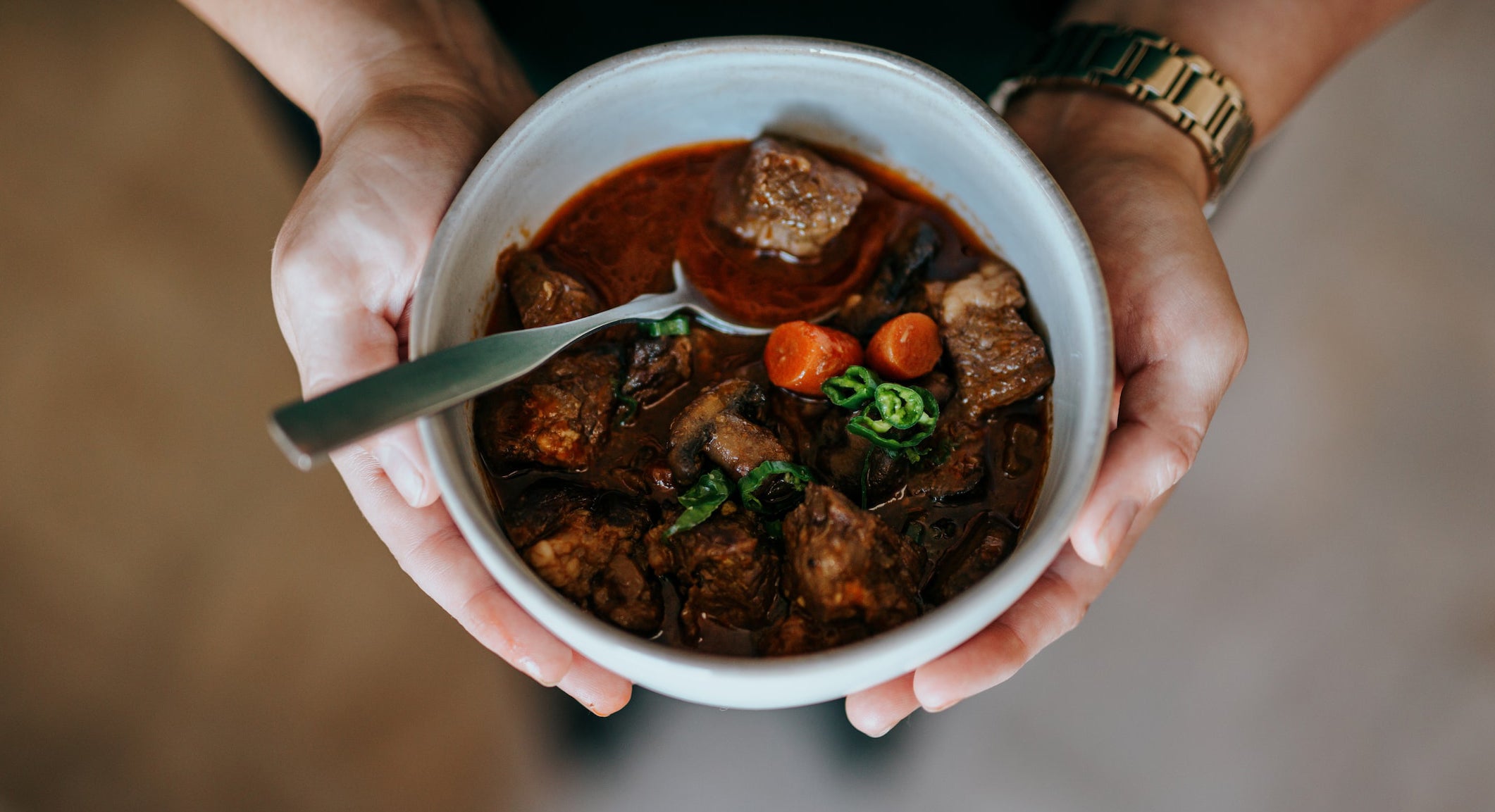 10 Amazing Autumnal One-Pots
| by Jonah Creed
Autumn is coming, ushering in cooler days and chillier nights. But before you start missing those blissful BBQs, remember: Fall is the perfect opportunity to indulge in some soul-warming soups and satisfying stews. And better yet, this is the kind of delicious comfort food you can heat in one pot and enjoy within minutes.
We call these picks "autumnal one-pots." From hearty, meaty stews to aromatic, chunky soups, we have gourmet one-pot meals for any palate. With 0% fuss and 100% deliciousness.
There's nothing like a hearty, meaty stew to warm things up. "Adobo" is a traditional Filipino dish that's delightfully tangy and savoury with a hint of sweetness. Our Pork Adobo Stew is made with sumptuous pork belly and seasoned with garlic, bay leaf, vinegar, soy sauce and peppercorns. Serve on its own or with rice.
What's better than creamy potato soup? Creamy potato soup with bacon! This velvety favourite is packed with potatoes, roasted garlic, chicken stock, onion, cream and bacon and perfectly seasoned. It's rich and deeply satisfying — on its own or with a roast beef sandwich.
Cassoulet, a French dish of white beans cooked with meat, began as farmhouse fare but is now enjoyed as a gourmet meal. Our version features tender pork shoulder, smoky ham, tangy tomato and creamy white beans, all seasoned with thyme and garlic. Enjoy this tasty stew with toasted bread.

This delicious vegan mushroom soup is perfect for a warming, comforting meal. The mushrooms infuse this smooth soup with nutty, earthy and umami flavour. Thick and luxurious, this soup is seasoned with onion, garlic, thyme, potato, vegetable stock and olive oil. Enjoy your new favourite soup with a kale or arugula salad or cheese and onion toasties.


Shake off the chill of an early autumn evening with a succulent meaty feast in a bowl. This aromatic stew is loaded with pork shoulder and bell peppers, and slow-cooked in a silky coconut milk, lemon and curry-infused sauce. Devour it with your favourite bread (save some to mop up that gorgeous sauce).

Nothing says autumn soup like the beautiful combination of butternut squash and apple. Our delightfully dairy-free soup is made with rich coconut milk, mellow squash and sweet apple, and seasoned with ginger, cinnamon, chilli and cumin. It smells as gorgeous as it tastes! An arugula and apple salad makes an excellent side dish.
Succulent and satisfying, Moroccan chicken tagine stew is a delectable meal-in-a bowl treat. Savour chicken and bell peppers cooked in vegetable stock with cinnamon, coriander, ginger, turmeric and lemon. Add olives for pops of salty surprise. Serve with Moroccan carrot salad if you fancy some extra veggies.

We love this rich and hearty soup, packed with nutritious goodness (it's also one of our customer favourites!) Savour earthy lentils, caramelized onion, celery, carrots, tomato, aromatic seasonings and bright curry spices. You'll want to serve this zesty soup with extra toasted bread for dipping.


Ratatouille is a traditional French dish of zucchini and onions with bright tomatoey tang and pungent pepperiness. Our ratatouille also has chunks of tender chicken, seasoned with garlic and thyme. Enjoy this luscious, classic stew on its own or serve with your favourite carb (rice, potatoes or noodles).

Whether you're feeling under the weather or the weather has you reaching for extra blankets, chicken noodle soup is maximum-level comfort food. Our version is made with orecchiette, chicken, parmesan and vegetables, and seasoned with fennel, rosemary and thyme. If you want a little bit of extra comfort on the side, enjoy your soup with a gooey grilled cheese sandwich.
Can't find what you need or want more help picking out gourmet products to put in your cart? Get in touch with Creeds Concierge, who will help select the tastiest foods — just for you.
Be in the know
Promotions, new products and sales. Directly to your inbox