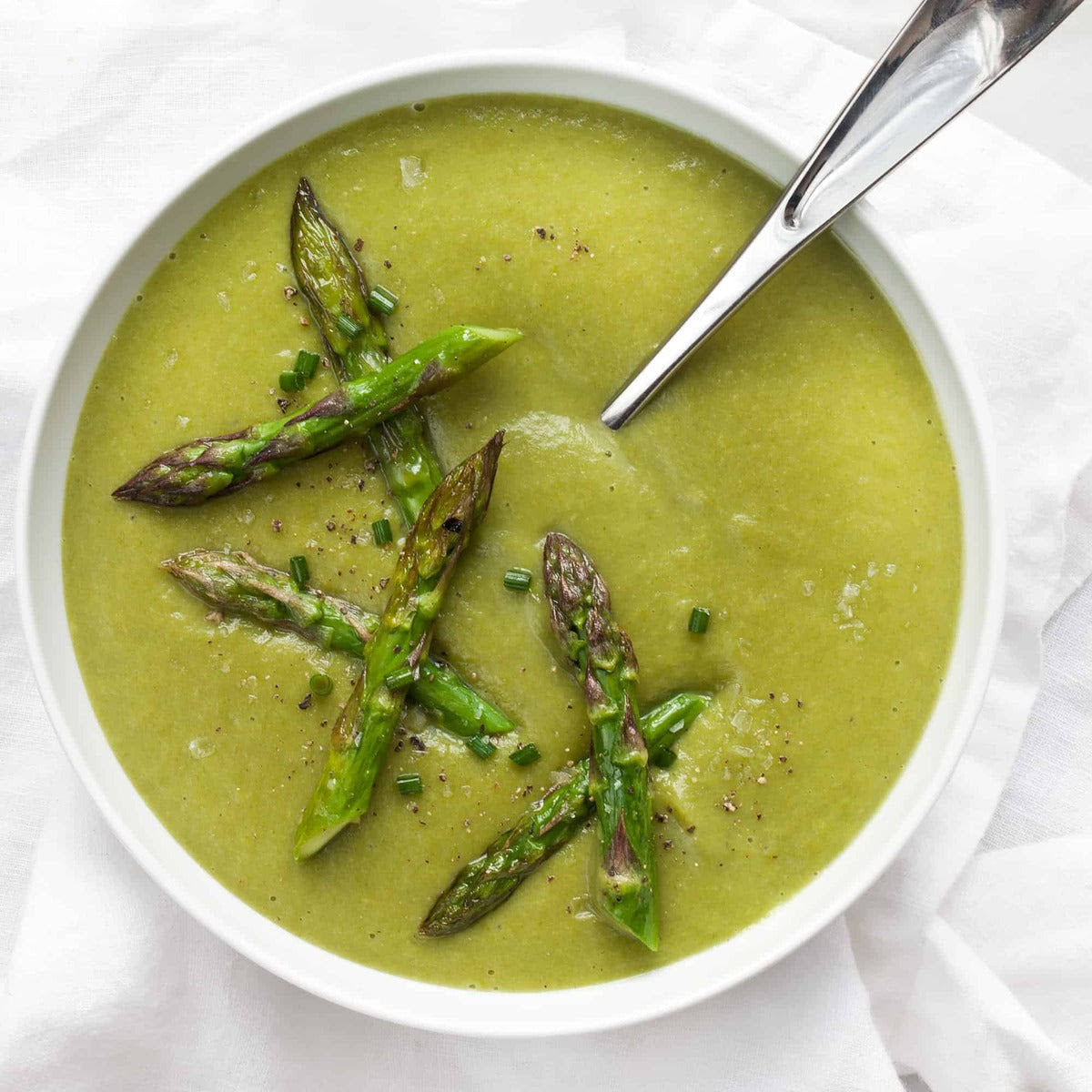 Our 10 Best Winter-Warmer Soups 
| by Jonah Creed
There's snow on the ground and a chill in the air. So strap on those slippers, wrap yourself up in a thick and cozy sweater and pour yourself a generous bowl of one of our most popular winter soups. 
These picks are the ultimate comfort food for sub-zero temperatures. From hearty broths to savoury stocks, we've got soups to suit every taste. 
You can't beat a classic chicken and vegetable soup to warm the soul. On those cold winter days, tuck into our homemade chicken and vegetable soup, loaded with tender pieces of chicken breast, celery, onion, corn peas, carrots, red pepper and an aromatic blend of herbs and spices. Serve it with these heritage bath square crackers on top. 
The cold weather makes us practically cry out for a bowl of this velvety vegan soup full of the earthy, nutty and umami flavours of fresh mushroom. Our soup is blended to a thick, luxurious finish with onion, garlic, thyme, potato, vegetable stock and olive oil. Pair rich and creamy mushroom soup with crunchy sides, like baked vegetable or chicken tenders.
French onion soup is classic comfort food that will warm you up from head to toe - even on the coldest days. Our version is packed with slow-cooked caramelized onions in a rich, sweet and savoury broth. Grate some gruyere on top, add a few croutons and put that baby under the broiler for a seriously mouthwatering meal.
When you're longing for the warmth of spring, there's no better cure than a bowl of refreshing bowl pea and mint soup. Our version takes fresh peas, mint and onion, blends with vegetable stock to a silky-smooth consistency, and finishes with olive oil and salt. Top with Greek yogurt or sour cream for a tangy twist. 
We've taken the antioxidant power of herb-infused green goddess dressing and turned it into a healthy and hearty soup. Our recipe is packed with broccoli, brussels sprouts, celery, asparagus, spinach, coconut milk and a huge serving of fresh herbs. One bowl and you're guaranteed to feel like a supreme being!
When you want a hearty soup to fill you up, this sausage and fennel soup is the ticket. Jam-packed with tender pieces of veal, beef and pork sausage in a rich tomato sauce, this soup is also chock full of fennel, celery, onion, red pepper, and tomato and our blend of aromatic spices. This is a great soup for dinner with a side of crusty sourdough bread. 
The ginger and cardamom in this butternut squash soup add a gentle earthiness and spice to a classic cold-weather staple. Butternut squash and ginger are truly a match made in heaven. Enjoy them perfectly cooked and blended to a velvety finish in this sweet and savoury soup. We love it with a dollop of Greek yogurt and croutons on top. 
There are few things as comforting and satisfying as a big warm bowl of asparagus soup. And we don't mess around with this recipe either. It's the definition of simple things done well. We take fresh asparagus, potatoes, onion, salt and pepper and blend to a silky finish. That's it. Enjoy it with a nice glass of sauvignon blanc and a hearty appetite.
This rich and savoury tomato soup is the stuff of your childhood. We take fresh tomatoes, mixed peppers and onions and cook them down until they're soft and fragrant. Then we blitz them with homemade stock and our signature spice mix to a perfectly smooth consistency. Must be served with an ooey-gooey grilled cheese sandwich on the side. 
We saved the best for last! Our potato and leek soup pays homage to this classic Welsh dish. Our recipe uses fresh leaks, potatoes and seasoning, blended smooth with vegetable stock. It's a rib-sticking bowl of comfort food that will see you through the harshest of winters and well into the spring. 
Can't find what you need or want more help picking out gourmet products to put in your cart?

 

Get in touch with Creeds Concierge, who will help select the tastiest foods just for you. 
Be in the know
Promotions, new products and sales. Directly to your inbox