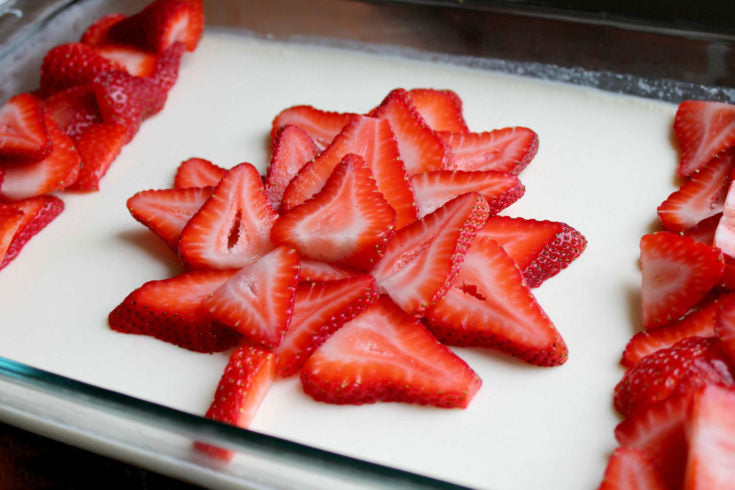 Celebrate Canada Day with a Gourmet Gathering
| by Jonah Creed
Canada Day: it's a time to celebrate our nation and all the good things that we enjoy as Canadians. And one of the best ways to honour the country's birthday? Inviting your favourite people to a feast of fantastic food and drink — and not just beer.
Here are some of our favourite gourmet party snacks, delish desserts, and sumptuous meats for the grill. And of course we have options to dress up your offerings in red and white. Grab your sparklers, a glass of something celebratory — and a Creeds beaver — and start planning a spectacular Canada Day gathering.
1. Red Wine and White Wine
Canada has some remarkable wines, and Canada Day is the perfect time to sample them. Crew Sauvage is an elegant, light-bodied and luscious pinot with bright aromas of cherry. Follow the White Rabbit is a refreshing blend of chardonnay, sémillon, riesling, and savagnin, matured in neutral French oak barrels. Both vintages are crafted in the Niagara region.
2. Bloody Caesar: Canada's Cocktail
Did you know that the bloody caesar was born in Canada? The perfect mix of vodka, clam juice, tomato juice, spices and Worcestershire sauce puts everyone in a celebratory mood. Level-up your caesar game with a premium rimmer and a caesar elixir. The Cajun Cowboy, crafted with a mix of gourmet seasonings, adds a zesty rim to your glass. And Walkers OneShot Medium Caesar Elixir will infuse your classic cocktail with of bold herbs, spices and heat.
3. Tomato and Buffalo Mozzarella Salad
This is possibly the freshest and most delectable (and easiest!) "red and white" salad. On a large platter or plate, lay out slices of tomato and add slices of buffalo mozzarella, top with basil leaves and drizzle with extra-virgin olive oil and aged balsamic vinegar. This Caprese salad wows with an elegant mix of herby, pungent and salty flavours, and looks gorgeous on the table.
4. All-Beef Hot Dogs
Get the grill ready. These all-beef hot dogs, crafted in Woodbridge, are the real deal. "Lanky Frankys" will satisfy your biggest craving for Chicago dogs — they're meaty, juicy and perfectly seasoned. Top with mustard, relish, chopped onions, tomato and spicy peppers for an authentic, mouth-watering experience.
5. Hamburgers & Veggie Burgers
Perfectly seasoned, juicy burgers are the star of any BBQ. Our famous 8 oz. beef burgers are from Grace Meat Market, a Toronto butchering institution. And for a veggie option, our Modern Meat Burgers have a wonderful meaty texture. Sink your teeth into these delectable patties, crafted from local meats or tasty plants, and be transported to burger nirvana.
6. Gourmet Condiments
When it's time to dress your delicious hotdogs and hamburgers, you don't want just any condiment. Amp  up your topping game with some sweet maple mustard or black truffle spicy mayo. For some added kick, spoon on some chipotle ketchup, horseradish beet relish or pickled jalapeños. And don't forget the lettuce and tomato!
7. Classic Tourtière
Tourtière is Canada's glorious, but perhaps undercelebrated, meat pie. With a flaky crust and a combination of ground meat, onions and savoury seasonings, this traditional French-Canadian dish is delicious hot or cold — which makes it a perfect option for a picnic or party spread. Available in beef and chicken & mushroom options. Serve with chili sauce or pickled red beets.
8. Gourmet Potato Chips
Everyone loves chips: crispy, crunchy and oh-so-satisfying. Our all-natural, homemade potato chips are deep-fried to a golden brown finish and coated with kosher salt and herbes de provence. For a nostalgic twist, serve some sour cream & onion chips — tangy, onion-y, salty, can't-stop-eating slivers of crunchy goodness. Each small batch of our Covered Bridge chips is tumbled with the seasonings for an even coating of deliciousness.
9. Vanilla Gelato and Strawberries
Here's a quick and easy dessert idea: combine vanilla gelato and strawberries in a parfait glass and top with a few sprigs of fresh mint. It's fresh and rich, beautifully cooling — and red and white! Our vanilla bean honey gelato from Death in Venice is delightfully creamy and pairs perfectly with fresh fruit.
10. Canadian Napkins
Don't forget the napkins! Display your patriotism on the dinner table with napkins printed with a map of Canada. You can feel good about the environment with these cotton-linen blend napkins (they're machine washable!) crafted by Jaxx & Marbles. These soft and luxurious napkins are also available in Algonquin Park, Lake Simcoe, Georgian Bay and Lake Rousseau and Lake Joseph collections. Grab some with your favourite locations and let the Canada Day celebrating begin!
Be in the know
Promotions, new products and sales. Directly to your inbox