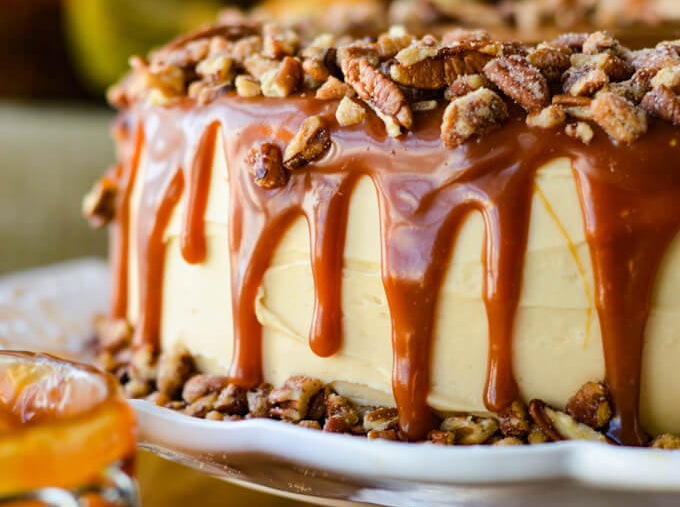 Two Pumpkin Recipes: Savoury and Sweet
| by Jonah Creed
When October arrives, with its gorgeous foliage and frosty evenings, many minds turn to pumpkins. There's the Halloween connection, of course, and the return of pumpkin spice lattes and other hot beverages infused with fall's iconic orange fruit (pumpkins are technically giant berries!). Or maybe you love spreading delicious pumpkin butter on your toast.

You probably have a go-to pumpkin pie recipe. So we're sharing two pumpkin recipes you may not have tried before: a stunning layer cake with a fabulous frosting and savoury risotto with a salty surprise. The Pumpkin Risotto With Bacon makes an elegant side dish or main entrée. The second recipe, Pumpkin Salted Caramel Cake, is as mouthwatering as it sounds.
Pumpkin Risotto With Bacon
Serves 6
Ingredients
1 tablespoon olive oil
1 1/2 cup diced yellow onion (about 1 1/2 medium-sized onions)
6 strips of bacon chopped
1 cup uncooked Arborio rice
salt and black pepper to taste
4 1/2 cup chicken broth
1/4 cup pumpkin puree
1/2 cup grated parmesan cheese
2 tablespoons chopped parsley

Directions
1. In a deep nonstick skillet, heat the olive oil over medium-high heat. Add the onions and bacon and cook until the onions are tender and the bacon is just starting to crisp, about 15 minutes (don't overcook the bacon).

2. Add the rice and generous amounts of salt and black pepper. Cook, stirring frequently, for about 5 minutes.

3. Stir in the broth, and cook for an additional 10 minutes, stirring frequently. Then reduce the heat to low and cover. Cook the rice for about 25 minutes or until tender.
4. Stir in the pumpkin puree during the last 5 minutes of cooking.
5. Stir in the cheese, reserving a couple of tablespoons for garnish.
6. Turn up the heat to medium-high and continue cooking, uncovered, or until most of the liquid is absorbed, but the mixture is still creamy.
7. Serve immediately, garnished with fresh parsley and additional parmesan cheese.
Pumpkin Salted Caramel Layer Cake
Makes 8-12 servings
Ingredients

Frosting
1 cup of salted caramel sauce (jarred or homemade)
1 pound cream cheese, cut into 2-inch cubes

Cake
2 cups all-purpose flour
2 1/4 teaspoons baking powder
1 teaspoon salt
1 teaspoon cinnamon
1 teaspoon ground ginger
3/4 teaspoon baking soda
1/2 teaspoon freshly grated nutmeg
1/4 teaspoon ground cloves
1 1/4 cups light brown sugar
4 large eggs
3/4 cup vegetable oil
One 15-ounce can pumpkin puree
1/2 cup whole milk
Extra salted caramel sauce for drizzling
Toasted or candied pecans for topping (optional)

Directions
1. Add the salted caramel sauce to the bowl of an electric mixer and start beating at low speed. With the mixer on, add in the cream cheese one cube at a time until the texture is silky.

2. Transfer the frosting to a bowl and refrigerate until very firm (a few hours).

3. In a medium bowl, whisk the flour with the baking powder, salt, cinnamon, ginger, baking soda, nutmeg and cloves.

4. In a large bowl, using the electric mixer at medium-high speed, add the brown sugar and eggs and beat until fluffy, about 3 minutes.

5. Add in the oil, then the pumpkin puree.

6. Alternately add the dry ingredients and the milk in three batches. Start and end with the flour. Mix until just combined (don't overmix).

7. Preheat oven to 350F. Grease 6-inch round cake pans and divide the batter between pans.

8. Bake for 40 to 45 minutes, until a toothpick or knife inserted into the centre of the cake comes out clean. Cool in the pans for about 20 minutes.

9. Run a knife around the edges to loosen the cakes, then invert them onto a wire rack to cool completely.

10. Place one layer of cake on a cake plate and add frosting. Drizzle with salted caramel sauce. Repeat with the remaining layers. Tops with pecans (optional). 

Note: This recipe also works with 8- or 9-inch round pans, a 9×13 baking dish, or even a bundt cake pan. Or, makes 24 pumpkin salted caramel muffins.




Be in the know
Promotions, new products and sales. Directly to your inbox