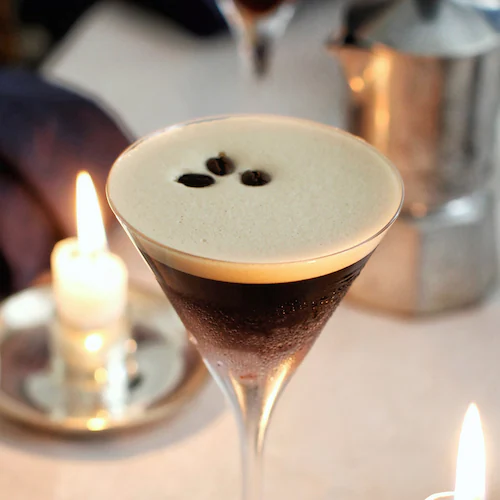 Coffee Cocktails for the Holidays
| by Jonah Creed
The holidays can be a lot of fun - but they can also be pretty full-on. If you feel like you'll need a little pick me up with your festive cocktail this year, we've got you covered. We've rounded up our top three favourite coffee-based libations made using Creeds famous Cinque coffee and Dillon's best-selling spirits.
Whether you're serving them at a holiday party or simply enjoying a solo bevy, these java-infused elixirs are sure to keep you going throughout the season. 
Espresso Martini 
Serves 1
Ingredients
2 ounces Dillon's vodka
1/2 ounce coffee liqueur
1 ounce Cinque espresso, freshly brewed (or cold brew concentrate)
1/2 ounce simple syrup
Garnish: coffee beans
Directions
1. Add all of the ingredients into a shaker with ice and shake until well-chilled.
2. Strain into a chilled cocktail glass.
3. Garnish with coffee beans.
Classic Irish Coffee
Serves 1
Ingredients
1 ½ ounces Irish whiskey (or try Dillon's Rye Whisky for a Canadian twist)
1 to 2 teaspoons maple syrup, to taste
6 ounces hot freshly brewed Cinque coffee
Whipped cream, for topping
Directions
1. Pour whiskey and 1 teaspoon of maple syrup into a heat-safe mug. Pour in a splash of coffee and stir until maple syrup dissolves.
2. Pour in the rest of the coffee. Taste, and stir in additional maple syrup for a sweeter drink.
3. Top with whipped cream and enjoy. 
Hot Rum Coffee 
Serves 4
Ingredients
2 cups hot Cinque coffee
1/2 cup half-and-half cream, heated
2 1/2 tbsp. sugar
1/8 tsp. ground cardamom
1/8 tsp. freshly grated nutmeg
3/4 cup Dillon's 18-year-old rum
Grated chocolate for garnish
Directions
1. In a pitcher, stir together coffee, half-and-half cream, sugar, cardamom and nutmeg.
2. Pour 3 tablespoons of rum into each mug and top with coffee mixture.
3. Stir gently, sprinkle the top with the chocolate and serve immediately. 
Be in the know
Promotions, new products and sales. Directly to your inbox