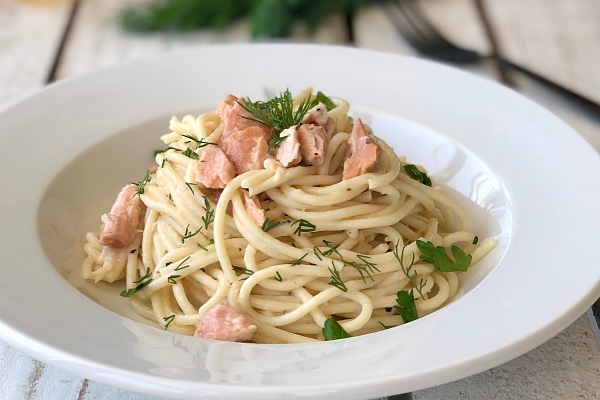 Creamy Smoked Salmon Pasta
| by Jonah Creed
Smoked salmon elevates any dish. Delightfully salty and smoky, it's the star of the show in this decadent pasta. One of our favourites, Smoked Salmon Pasta is creamy and lemony, seasoned with fresh dill, capers and white wine. Mouth-watering morsels of salmon are nestled in tender spaghetti … each forkful is a delight.
This easy-to-make dish is perfect for a sumptuous midweek supper or weekend treat. Serve on its own or with a crisp green salad.
Serves 4
Ingredients

1 lb. spaghetti

2 tbsp. olive oil
1/2 red onion, chopped
2 cloves garlic, minced
1/4 cup. white wine
3/4 cup heavy cream
Juice of 1/2 lemon
Dash of Kosher salt
Freshly ground black pepper
1/2 lb. smoked salmon, cut into bite-sized pieces
1/4 cup capers, drained
2 tbsp. freshly chopped dill, plus more for garnish
2 green onions for garnish


Directions

1. Cook pasta according to package directions until al dente. Drain, reserving 1/2 cup pasta water, and return to pot.
2. Heat oil over medium heat in a large skillet.
3. Add onion and cook until soft, (about 5 minutes), then add garlic and cook 1 minute more.
4. Add wine and cook until almost completely reduced (about 5 minutes).
5. Add heavy cream and lemon juice and cook until thickened, another 5 minutes. Season with salt and pepper.
6. Add salmon, capers and dill and cook until salmon is warmed through (about 2 minutes), then toss sauce and pasta together. If sauce is too thick, add 1/4 cup pasta water
7. Garnish with more dill and optional green onions to serve.
Be in the know
Promotions, new products and sales. Directly to your inbox