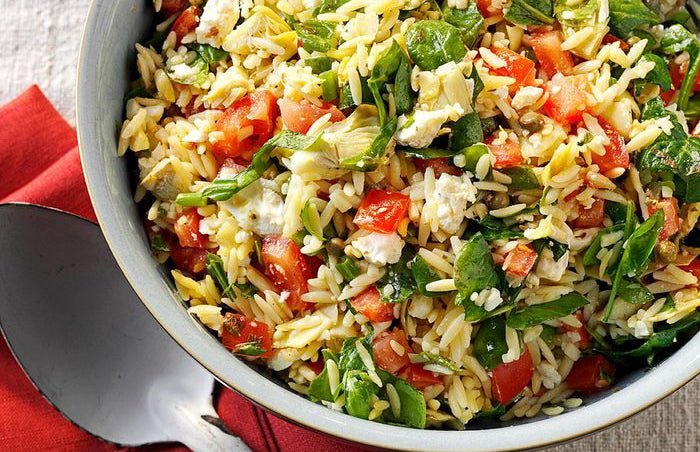 Lemon Orzo Pasta Salad
| by Jonah Creed
Fresh and zesty, this salad is like one big beautiful bite of summer. It looks fantastic and it's easy to make. What's not to love?

This orzo-based salad combines tangy lemon with crisp cucumbers, sweet tomatoes, salty olives and tender artichokes in a gorgeous herbed vinaigrette. The bright citrus from both the lemon juice and zest make this salad shine. Feel free to add in your favourite vegetables — asparagus, peppers, spinach — for a personal touch.

Savour this zingy salad while it's still warm, as a main or side with grilled chicken or tofu. Or bring this crowd-pleaser to your next potluck and watch it disappear.
Makes approximately eight 1-cup servings
Ingredients
1½ cups (8 ounces) dried orzo pasta
Salt and fresh ground black pepper
¼ cup extra-virgin olive oil
1 teaspoon Dijon or hot honey mustard
½ teaspoon honey
1 teaspoon finely grated lemon zest
2 to 4 tablespoons fresh squeezed lemon juice
1 medium English cucumber, diced
1 large tomato, diced or 8 ounces halved cherry tomatoes
½ cup coarsely chopped fresh herbs
½ cup pitted olives, halved
1 cup jarred and drained artichoke hearts

Directions
1. Bring a large saucepan of salted water to a boil. Add orzo and cook until tender, 6 to 10 minutes or until desired firmness. Drain.
2. While the orzo cooks, prepare the dressing. In a large bowl, whisk the oil, mustard, honey, lemon zest, lemon juice, ½ teaspoon of salt, and ¼  teaspoon pepper.
3. Add the drained orzo (still warm) to the dressing and mix well. Add in the cucumber, tomato, herbs, olives and artichokes.
4. Adjust seasoning with salt and/or pepper as needed. 
Enjoy warm. Or cover and refrigerate until cool — about 1 hour.
Be in the know
Promotions, new products and sales. Directly to your inbox