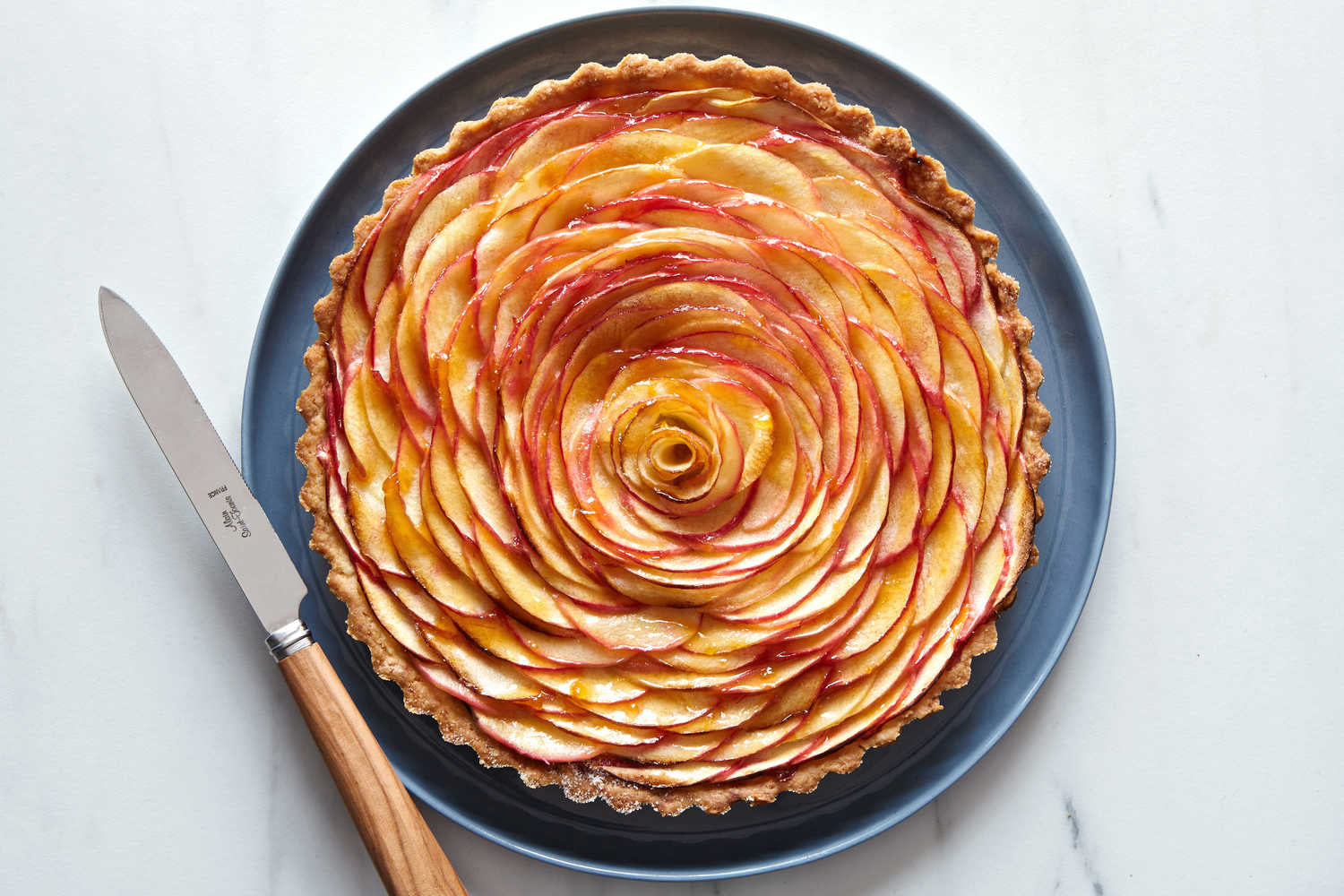 Two Fancy (But Easy) Delicious Apple Desserts
| by Jonah Creed
Autumn is rolling in and that means the triumphant start to apple season. The glorious apple is a versatile fruit. Juicy, crisp and ranging from tart to sweet, apples can be cooked into savoury dishes, baked into muffins and squares and enjoyed deliciously raw. And of course, apples are magnificent in desserts — all that clean and bright flavour and tender (just-firm-enough) texture.

Here are two special desserts featuring apples as the star of the show: a delicate tart and a fluffy cake. Wow your dinner guests with an apple rose tart, which looks like a work of art, but is surprisingly easy to make (just don't tell anyone). The second recipe, an apple sharlotka, is a deliciously light cake with a crispy almost meringue-like topping.
Apple Rose Tart
Serves 8-10


Ingredients

Dough
3 3/4 cups all-purpose flour
1 1/2 teaspoons salt
1 1/2 teaspoons sugar
1 1/2 cups (3 sticks) chilled unsalted butter, cut into small pieces
1/2 to 3/4 cup ice water

Filling
2 teaspoons unbleached all-purpose flour, plus more for dusting
3 tablespoons apricot jam
1/4 teaspoon grated fresh ginger
2 Pink Lady apples: halved, cored and sliced 1/8 inch thick (about 2 1/2 cups)
6 tablespoons sugar
2 teaspoons apple cider vinegar
1/2 teaspoon kosher salt
1 Granny Smith apple: peeled, halved, cored and sliced 1/8 inch thick (about 1 cup)

Directions: Dough

1. In a food processor, pulse together flour, salt and sugar to combine. Add butter, and process until mixture resembles coarse meal, about 10 seconds. While the machine is running, add 1/2 cup ice water in a slow, steady stream until dough holds together. If the dough is still crumbly, add up to 1/4 cup more ice water, a little at a time. Do not process more than 30 seconds.

2. Turn out dough onto a clean work surface. Divide into 3 equal pieces. Place each piece on plastic wrap and flatten into a disk. Wrap tightly and refrigerate for at least 1 hour.

Directions: Tart Filling

1. Preheat oven to 425°F with the rack in the bottom position. On a lightly floured surface, roll out dough 1/8 inch thick. Trim dough to a 12-inch round and fit into a 10-inch fluted tart pan with a removable bottom. Trim edges to 1 inch, then fold under to double the thickness of the edge.

2. Stir together jam and ginger. Spread over the dough. Refrigerate for 20 minutes.

3. Toss together Pink Lady apple slices, 3 tablespoons sugar, 1 1/2 teaspoons flour, 1 teaspoon vinegar and 1/4 teaspoon salt. Starting from the outside of the pan, tightly shingle apples over the dough in concentric circles, covering two-thirds of the dough.

4. Toss together Granny Smith apple slices and remaining 3 tablespoons sugar, 1/2 teaspoon flour, 1 teaspoon vinegar, and 1/4 teaspoon salt. Shingle apples over dough in the remaining space in the centre of the dough (leave excess juice and sugar in the bowl). When you get to the very centre, roll up a very thin apple slice or two to create the centre of the "rose." Add a few drops of water to the remaining fruit juices and sugar to create a glaze; set aside.

5. Bake for 15 minutes. Reduce oven temperature to 375°F and continue baking until apples are tender and the crust is golden brown, about 40 to 45 minutes, brushing with glaze from the bowl once during cooking and once after removing from oven. Transfer pan to a wire rack and let cool for 15 minutes. Remove sides of pan and transfer to a rack to cool 15 minutes more. Serve warm or at room temperature. Tart can be stored, covered with parchment-lined foil, at room temperature up to 1 day.
Apple Sharlotka
Ingredients
4 Granny Smith apples: peeled, cored, quartered and thinly sliced
1 tablespoon fresh lemon juice
1 cup sugar
3/4 cup plus 2 tablespoons all-purpose flour
1/4 teaspoon ground cinnamon
1/4 teaspoon freshly grated nutmeg
Pinch of kosher salt
3 large eggs
1/2 teaspoon pure almond extract
Confectioners' sugar for dusting

Directions

1. Preheat the oven to 350°. Grease the bottom and side of an 8-inch springform pan.

2. In a large bowl, toss the apples with lemon juice and 2 tablespoons of the sugar. Let stand for 15 minutes.

3. In a small bowl, whisk the flour, cinnamon, nutmeg and salt.

4. In a medium bowl, using an electric mixer, beat the eggs with the almond extract and the remaining sugar at medium-high speed until a thick ribbon forms when the beaters are lifted, about 8 to 10 minutes. Gently fold in the dry ingredients just until incorporated.

4. Spread the apples in an even layer in the pan, then pour the batter evenly over top. Let stand for 5 minutes to allow the batter to sink in a little.

5. Bake the sharlotka for about 1 hour, until golden and crisp on top and a toothpick inserted in the centre comes out clean. Transfer to a rack and let rest for 15 minutes. Remove sides of the pan and transfer to a serving platter. Dust with confectioners' sugar and serve warm.


Be in the know
Promotions, new products and sales. Directly to your inbox