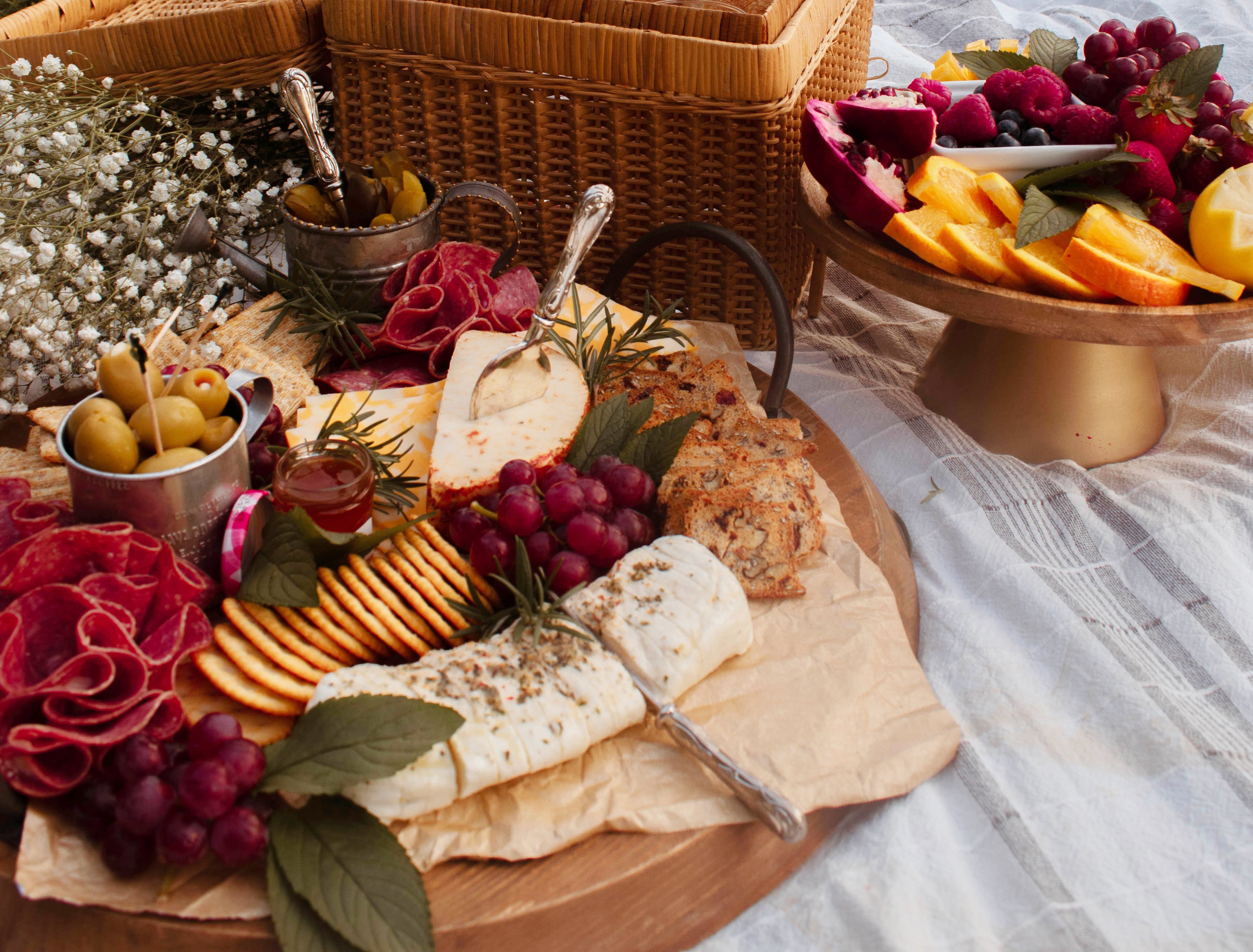 Have a Gourmet Charcuterie Picnic
| by Jonah Creed
Summer is a magical time of year. The fantastic weather allows for great outdoor hikes and bike rides, camping and eating alfresco. And speaking of eating outside — at the beach or cottage, on a patio, in the park, under the stars — nothing says summer like a picnic.
The Italians have an expression for picnic philosophy: scampagnata. It means getting out of town, often to the countryside, and indulging in all kinds of delicious finger food. This movable feast can include everything from meats and cheeses to tuna-stuffed tomatoes and muffaletta sandwich loaves.
We've gathered some of our ready-to-eat favourites for an indulgent charcuterie picnic spread. These luxurious meats and cheeses, sumptuous spreads, fruits and veggies, olives, nuts, special beverages, and more come together into a tasty banquet of delights — perfect for outdoor dining.
1. Wine and Spirits
Follow the White Rabbit is a cool mix of white wines, sparkling with tangy notes of stone fruit, green apple, pear and lemon curd. And it comes in cans. If you prefer rosé, Alidon Rosé is a refreshing and citrusy grenache blend bursting with flavours of grapefruit, mandarin and lemon. Or consider single-serve spirits. Dillion's negroni spins gin, sweet vermouth and bitter aperitivo into a bright, herby portable cocktail.
2. Soppressata and Salametti
Gourmet meats are the centrepiece of an amazing charcuterie board. Tutto Italia makes aromatic, dry artisanal soppressata in the Calabrian tradition. The sausage's intense spices and salty fat pair beautifully with soft, creamy cheeses. For a meat with heat, spicy salametti is a savoury and beautifully aromatic option.
3. Artisan Cheeses
Tipsy is a washed rind cow's milk cheese, similar to Swiss, that's soaked in cabernet merlot. We love its mild, buttery flavour and the boozy rind, which is delightfully edible. For a zesty, earthy fromage, Purgatory Goat Cheddar has a gorgeous umami intensity and a hint of sweetness.
4. Mixed Vegetable Antipasto
Don't forget to include the antipasto. With tangy artichokes, sweet grilled peppers and onions, and vibrant sun-dried tomatoes, Seggiano's mixed vegetables are guaranteed to impress. For another delightful option Viani's Mixed Sicilian Vegetables has crunchy zucchini, sweet peppers and meaty pine nuts. Both pair perfectly with fresh bread (and wine, of course).
5. Savoury Cheese Wafers
Nothing compliments a cheese or charcuterie platter like an elegant cracker. These savoury cheese wafers, made with creamy butter and aged gouda, are delicately thin and delightfully crisp. Verduijn's offers a range of wafer flavours, ready to satisfy any cracker palette. Try the aromatic rosemary flavour and cheese with tomato and basil. Delish!
6. Olives
Round Rosate di Bitetto Olives are beautiful to behold and to eat. They have a rosy colour, and delicate, crisp flesh that comes away easily from the stone. Another favourite: Viani's Mixed Olives With Garlic And Chili. Delectably meaty and salty, these decadent mixed olives are infused with zesty garlic and piquant chili. Or try Divina's Garlic Stuffed Olives — plump, crunchy and fruity Halkidiki olives from Mt. Athos stuffed with pickled garlic.
7. Delicious Dips
Smoky Eggplant With Fried Garlic Dip is poetry for the palette: fresh and sweet, thick and creamy. The eggplant and garlic is roasted over an open fire, which gives the dip its rich smokiness. We also adore kale and edamame dip. Bright and lemony, garlicky and spicy, it tastes as beautiful as it looks. This pungent dip is delicious with crackers or sturdy chips.
8. Chips and Crisps and Nuts
Everyone loves chips: crispy and deeply satisfying. For a gourmet twist, try chorizo crisps. Delightfully crunchy and salty, these chips have an intense smoky, meaty flavour. If you like satisfying your salt craving with nuts, our premium, small-batch dry-roasted macadamias are a nut-lover's dream. Salty and slightly sweet, rich and buttery, these crunchy, creamy nuts are also rich in vitamins and antioxidants.
9. Fruit and Veg
Don't forget fruits and vegetables! They are fresh and thirst-quenching compliments to heavier, salted meats and cheeses. Sliced cucumbers, baby carrots and cherry tomatoes add crunch and sweet vibrancy. Blueberries, blackberries, strawberries and raspberries offer juicy explosions of sweetness. Plus, they are easy to transport and add rich colour to your spread.
10. Shortbread Cookies
What better way to punctuate a savoury feast than to bite into a lovely sweet biscuit. Rich buttery shortbread is a delectable dolce for your charcuterie picnic. Our favourite hand-cut biscuits come in a variety of flavours, including chocolate shortbread fingers, with luxurious chunks of dark chocolate, and strawberries and cream biscuits with flavours of strawberry married with clotted cream and butter. 
So get your carrier bag ready and start planning your gourmet charcuterie picnic. Here are some things to pack:
Plastic tumblers
Plates and cutlery
Wine bottle opener
Small bowls for olives and dips
Spreading knife or spoon for dips
Cutting board and paring knife for cheese
Containers or plastic bags for leftovers
Trash bag
Ice packs
Buon appetito!
Be in the know
Promotions, new products and sales. Directly to your inbox