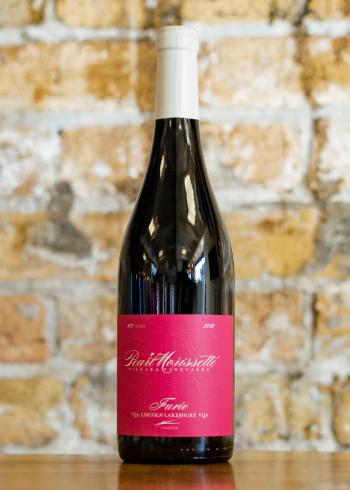 10 Best Holiday Wines for 2021
| by Jonah Creed
Whether you're picking out wines for a festive holiday soirée or choosing a bottle to complement your Christmas dinner, it never hurts to have a bit of inspiration. 
We've rounded up our pick of the best holiday wines for 2021 to serve at any event or for any reason this season. 
Holiday brunching season is upon us! So try this Italian prosecco on for size. Boasting tropical notes and fruit flavours, this fizzy, acidic and light libation is super easy to drink. It pairs well with brunch classics like quiche, fresh fruit and smoked salmon. It also makes a mean mimosa. 
If you're whipping up a charcuterie board full of salty meats like prosciutto, soppressata, or mortadella and mild cheeses like brie and camembert, you'll want to pair them with a light to medium-bodied red. Try this beautiful 2018 Chamboulé Pinot Noir from beloved Niagara winery, Pearl Morissette. This light, dry vintage offers a delicate balance of red and dark fruit notes with a juicy finish.
3. The Best Wine to Serve with Christmas Dinner: The Farm Chardonnay 2019

Is there a more classic pairing than succulent roasted turkey and a glass of oaky chardonnay? This creamy, minerally chardonnay hails from The Farm, a stunning 10-acre vineyard located in Niagara's Twenty Mile Bench. It's vibrant with a chalky minerality and layered notes of pear, lemon, honey and stone fruits.
You'll want to pick out a white wine with acidity to balance out creamy starters and herb-flavoured foods. This refreshing and elegant Sauvignon Blanc offers complex flavours of bright citrus fruit, peach and stone fruits shine with a bright acidity and a perfect hint of minerality on the finish. Enjoy this crisp classic with appetizers like spinach and artichoke dip, baked brie with fruit compote and devilled eggs. 
Every dessert needs a wine companion. Late harvest wines from white grapes work best, like this 2019 Chenin Blanc from Pearce Predhomme. Enjoy elegant notes of white peach, lemon, tangerine and crisp, yellow apple. Bright and fresh on the palate, this wine is ready to drink now but will also cellar nicely for the next 2-3 years.
If you're trying to cut down on alcohol over the holidays, this booze-free bubbly is for you. This premium champagne-coloured kombucha is brewed locally in Ottawa and has less than 0.5% alcohol content. Enjoy vibrant floral notes and a clean, grassy finish. Perfect on its own or mixed into a non-alcoholic cocktail.
7. The Best Wine to Get The Party Started: Spark Sparkling Rosé
There's something so undeniably celebratory about pink fizz in a champagne flute. Pop a bottle of this elegant sparkling pinot noir from Quarry Road Vineyard in Niagara. Enjoy fresh and bright aromas of strawberry, pink grapefruit and hints of toasted almond.  
Champagne is the ultimate holiday treat. We love this Champagne Andre Clouet Grande Reserve Brut with toasted and fruity nose, a light smokiness and a juiciness. It's a light, easy-drinking Champagne with a bit of zest and a gentle and sweet finish.
Hosting a formal party? You'll need to find a wine to match the occasion. We love this 2018 Château Marsau. It's so exclusive, the winery produces only one small glass of wine per vine. The nose is pure and red berries, and wildflowers flow from the glass, while the palate has sumptuous, silky tannins, a core of fruit, and a long, mineral finish. The label also features a showstopping design created by renowned industrial designer Ronan Bouroullec.
If you want a wine that works for every holiday event, this Cabernet Sauvignon from Pearl Morissette is a real winner. Their Furie is made with 100% Cabernet Sauvignon grapes from their Redfoot Vineyard in Niagara. Enjoy notes of plum, black currant, fine tannins and a gentle acidity. An easy-drinking wine to enjoy throughout the holidays. 
Can't choose just one of these stunning bottles? Why not order a Creeds custom gift box full of your favourite wine and our best-selling gourmet treats? Choose from a selection of confectionery, baked treats, oils and vinegars, artisan cheeses, red, white and sparkling wine, home goods and more!
Need help putting your gift box together? Get in touch with Creeds Concierge, who will help you curate the perfect vino-inspired present.
Be in the know
Promotions, new products and sales. Directly to your inbox