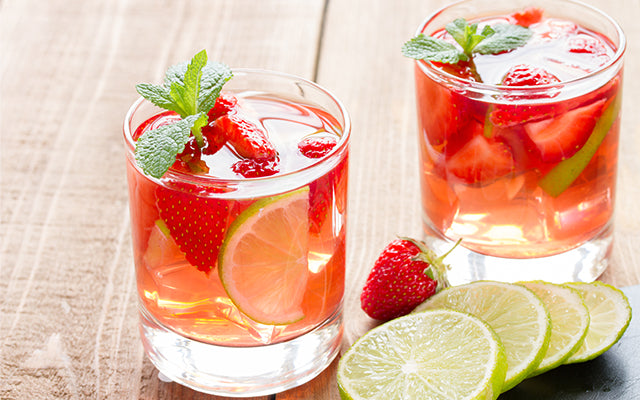 Easy Cocktails for Early Summer Sipping
| by Jonah Creed
Patio season has descended, and that's a wonderful thing. Not only is the weather gorgeously warm and pleasant, it's an opportunity to sample those fresh, early summer drinks. Whether you're looking for a bright and fruity beverage to celebrate the sun or a fresh, sparkling digestif to sip under the stars, these cocktail recipes will quench your thirst.

These delicious drinks are easy to make, even for the novice mixologist. In a matter of minutes you'll be enjoying elegant and refreshing bevvies in your favourite spot — al fresco or not.
Strawberry Mint Jammer
Serves 1 
Ingredients
2 fresh strawberries, sliced
3-4 fresh basil leaves
1 tablespoon strawberry jam
2 ounces gin (or try strawberry gin) 
More whole strawberries for garnish (if desired)
Crushed ice
Directions
1. In a rocks glass, muddle the strawberries and basil.
2. Fill a cocktail shaker with about ¾ cup of ice. Add the strawberry jam and gin. Shake vigorously for about 20 seconds.
3. Pour the contents of the shaker, including ice, into the rocks glass. 
4. Garnish with a fresh strawberry.

If gin isn't your thing, try a simple strawberry vodka cocktail. In a large pitcher add 2 cups strawberry schnapps, 2 cups lemonade, 2 cups cranberry juice, and vodka. Refrigerate until chilled and serve over ice with strawberries.
English Garden Cocktail
Serves 1
Ingredients
¼ cup (1.7 oz.) gin
½ cup apple & elderflower juice
1 lime, juiced
½ English cucumber, sliced along
Crushed ice
Mint leaves
Directions
1. In a shaker with crushed ice add gin, apple & elderflower juice, and lime juice. Shake for about 20 seconds.
2. Pour contents in a glass.
3. Garnish with a slice of cucumber and mint leaves.

For a refreshing, non-alcoholic alternative, try an Apple, Elderflower and Mint Sparkle. Combine 1L apple & elderflower juice and a small handful of roughly chopped mint leaves. Pour into glasses and top up with sparkling water.
White Sangria
Serves 4-6

Ingredients

1 bottle dry white wine (such as pinot grigio or chenin blanc), chilled
4 ounces Lillet Blanc (or sweet white vermouth)
1 medium peach, pitted and sliced
1 green apple, cored and sliced
1 lemon, cut into wedges
3 mint sprigs
Sparkling water, chilled (optional)
Directions:
1. In a pitcher add wine, Lillet Blanc, all of the fruit, and mint. Stir to combine.
2. Chill for up to four hours.
3. Divide between 4 to 6 wine goblets. Top with club soda, if desired.

If all that chopping, mixing and chilling sounds like too much effort, pick up some "fun-size" sangria pouches. Keep them in them in the freezer — they'll be refreshingly ready when that sangria craving hits. 
Happy sipping!
Be in the know
Promotions, new products and sales. Directly to your inbox